Are you a European organisation actively innovating in Artificial Intelligence, Blockchain, 5G or one of the other NGI technologies? Are you looking for new funding opportunities for your NGI-related experiments? Would you be interested in partnering with US teams? NGIatlantic.eu is the initiative you are looking for!
From April 2020 until November 2021, NGIatlantic.eu will launch 5 Open Calls for Proposals, with a total 2.8 Million Euros budget. The calls are for European organisations willing carry out high-quality Research & Innovation activities, with a US-based counterpart, on NGI experimental platforms.
Two types of projects will be funded (funding range from 50.000€ to 150.000€): 
Long-term EU-US NGI experiments, with R&I activities lasting up to 6 months;
Short-term EU-US NGI experiments, with R&I activities lasting up to 3 months.
The first four open calls are already closed. Open Call 5 is upcoming! If you want to keep abreast of the next news and to know when the next call is launched, register to our newsletter by clicking on the button below, or follow us on our Twitter and LinkedIn page, where we will announce the next opening!
---
The evaluation of the applications for projects received in response to the Open Calls are outsourced to a mix of NGI experts, covering the priority topics, which come together in the NGIatlantic.eu project's External Pool of Evaluators (EPE). The EPE is recruited on a personal basis through a continuous Open Call, ensuring that competence, geographical and gender coverage is correctly respected. Each application is assigned 3 Individual Evaluators, 1 Rapporteur and 1 Quality Controller selected from the EPE based on their individual expertise. The Evaluation workflow is performed over five different steps over an indicative 60 days timeframe starting from the call closure.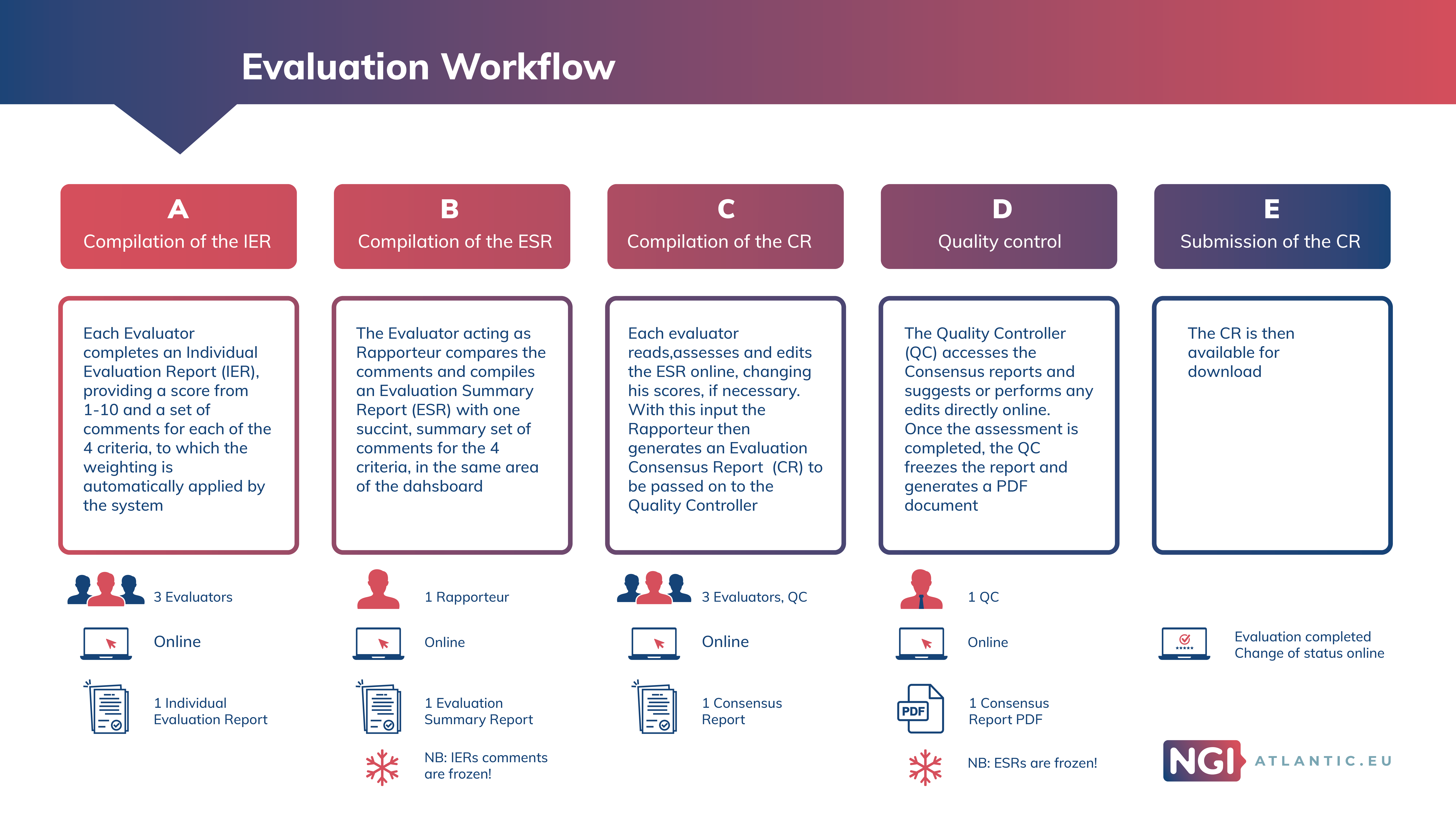 ---

---
The call for External Evaluators is now closed
Need more information? Feel free to contact us!